Since the early 1990s, JURA has specifically focussed on fully automatic coffee/Espresso machines. By concentrating its forces in this way, the company has succeeded in continuously quickening the pace of innovation and providing both coffee lovers and aesthetes alike all over the world with new products to delight them at ever shorter intervals.
IMPRESSA X9 platinum

culture of coffee for professionals
IMPRESSA XS90

A high-performance all-rounder
IMPRESSA X7 black

Made for professionals by professionals
Display Dialogue System including graphics display
Intelligent Pre Brew Aroma System (I.P.B.A.S.©)
Auto-Cappuccino for warm milk and frothed milk without shifting the cup.
2 separate spouts for steam and hot water
2 coffee mills
Wide range of programs
Active bean monitoring
A touch of a button is all it takes to make one of the seven individually programmable specialities that can be prepared with the IMPRESSA XS90. Use the Professional Cappuccino Frother to take the hard work out of making special favourites like Cappuccino or Latte Macchiato. The height of the coffee dispenser is infinitely adjustable, which means you can use virtually any size of cup of glass, and the machine has two separate integrated heating systems to facilitate seamless, instantaneous switching from hot water to steam production. The powder dispenser holds a second, pre-ground coffee
blend to give you even more possibilities.
Intelligent Pre Brew Aroma System (I.P.B.A.S.©)
(Intelligent Pre Brew Aroma System©)
Active bean monitoring
Sound Design
Energy Save Mode (E.S.M. ©) (E.S.M.©)
Two-level height-adjustable coffee dispenser
Rotary Switch
Connector System©
Cup illumination
Top-quality finish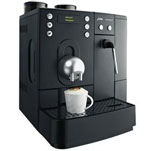 Big Display Dialogue System
Intelligent Pre Brew Aroma System (I.P.B.A.S.©)
Cappuccino at the push of a button without moving the cup
2 grinders
wide range of programs
perhaps the first "Plug and Play" machine in the
food service sector
similar to IMPRESSA x7 cappuccino without cup
railing; in black
IMPRESSA X7 cappuccino

Made for professionals by professionals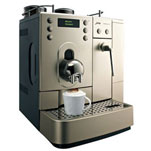 Big Display Dialogue System
Intelligent Pre Brew Aroma System (I.P.B.A.S.©)
Cappuccino at the press of a button without moving the cup
2 coffee mills
wide range of programs