In Italy they say that "it is easier to change religion than to change coffee". They were old times, old habits and life progressed at a different pace. But perhaps we are still prepared to go that little bit extra in order to find the right atmosphere, the aroma and outstanding flavour that are part of life's few daily satisfactions, this is coffee with true passion. This same passion is applied to choosing the worlds best coffee beans, combining almost a centenary of experience of blending and roasting with the latest techniques and quality standards, to bring you more than a cup of coffee.
Bristot "Classico" Italian Blend
Bristot "Espresso" Blend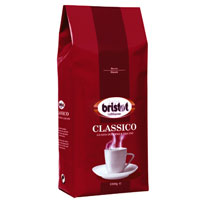 Espresso Coffee Beans 1kg
Rich, creamy with intense body. This blend is our most
Popular espresso blend for use with Super Automatic
espresso machines. Excellent for those who like a strong flavored espresso coffee with heavy body and crema.
Perfect for milk based coffee drinks.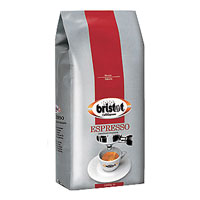 Espresso Coffee Beans 1kg
A rich espresso flavor with higher percentage of Arabica beans creates strong aroma in the cup. The dense and persistent cream render is ideal for cappuccino and caffe latte, yet strong and intense emphasis of espresso flavor.
Our most popular blend among Semi Automatic Espresso Makers users that have good coffee grinder.
Bristot "Buongusto"
Bristot "Speciale" Italian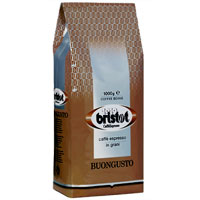 Espresso Coffee Beans 1kg
Popular blend among our clients. An original blend specifically prepared for a creamy and aromatic espresso with delicate and "unique" flavor. Ideal and recommended for Latte and cappuccino lovers.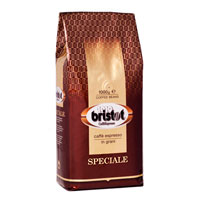 Espresso Coffee Beans 1kg
A blend of the finest coffees and a harmony of
superb flavors. A complete and balanced espresso.
WHOLESALE ACCOUNTS - FOR SPECIAL PRICING CALL or EMAIL
RETAIL PRICE RANGE $10.50 - $14.75 per pound
For More information