Millions of people all over the world have one thing in common. A good day starts with a good coffee.
WMF Bistro ! The Espresso Machine with MORE . . .
WMF 1400 ... coffee wakes up the world
WMF Easy Coffee specialties for start-ups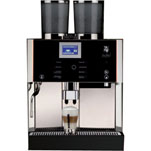 The absolutely new WMF BISTRO! has a bit more of everything: More Power, more Steam, more Chocolate, more Varieties, more outlet height and finally more design. Lots of proven technology in a new look and it is a real "Barista" as you can steam Milk without having that skill, all fully automatic. The new WMF BISTRO! is available in
single (3.3 kW) and three phase (6.3kW) supply.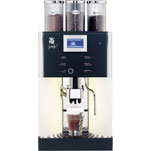 Fully automatic coffee specialty machine, depending on its equipment for Espresso, Café Créme, Cappuccino, white coffee, Latte Macchiato and chocolate specialties.With a special equipment you can even use topping powder (milk powder). Every unit is equipped with touch-screen display, automatic cleaning program, beverage registration, hot water outlet, and knockout box. Optionally with 4.5 liter water tank or fixed water connection (alternatively with or without dripping
water drain).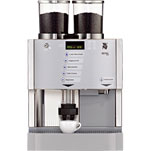 Fully automatic Espresso Machine for Coffee Specialities like: Espresso, Café Créme, Cappuccino, Cafe Latte and Latte Macchiato. The easy operation and the technology from the WMF BISTRO makes this well priced machine to the perfect coffee station in small retaurants or bars where quality
is important.